BBC Radio 4: Any Questions?
Sold Out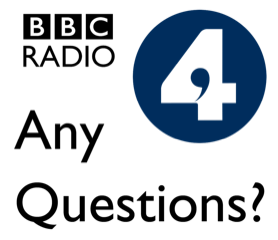 If tickets sold out, please email [email protected] 
BBC Radio 4: Any Questions will be broadcast live from The Witham at 8.00pm. The current presenter is the BBC Political Correspondent Chris Mason – he has been in the role since October 2019. The panellists are confirmed as:
Martin Callanan, Lord Callanan – Energy Minister
Jenny Chapman, Baroness Chapman – Shadow Minister of State for the Cabinet Office
Tanni Grey-Thompson, Baroness Grey Thompson – Paralympian and crossbench peer
Tonia Buxton – Restauranteur, broadcaster and author
https://www.bbc.co.uk/programmes/m00146jg
Tickets are free and allocated on a 'first-come, first-served' basis. Tickets must be booked in advance.
Questions can be submitted on the night from 6.30pm in the Any Questions? box at The Witham. Questions can be submitted on any topic up to the last minute and there is no limit on the numbers of questions each person can put in.
Timings
6.45pm Doors are open to the public. You must arrive between 6.00pm and 7.00pm and be seated by 7.15pm.
7.30pm BBC warm-up, including audience welcome, short talk about Any Questions? and general BBC matters.
8.02pm Programme goes LIVE ON-AIR following the Radio 4 News, which the audience can hear.

8:50pm Programme ends.
You may also like