Funny Way To Be Comedy – Edinburgh Previews (16+)
Ticket price
£25 for 4 shows
When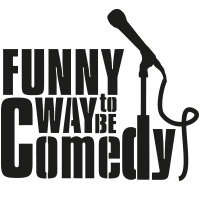 Four of the brightest up and coming stars of the UK comedy scene presenting their new shows ahead of the Edinburgh Festival and UK tours. You can buy tickets individually or purchase a discounted priority day pass to see all four shows.
Come to see Louise Young, Matt Bragg, Dan Tiernan and Anth Young. 
These are individual shows and for technical/health & Safety issues the hall will be completely emptied at the end of each hour show.
5.00pm – Louise Young: Feral 
Debut hour from one of the brightest emerging names in comedy. Tour support for Alan Carr & Tom Allen. As seen on Comedy Central Live and Channel 4's Original Comedy shorts. The Geordie comic explores class, chaos and coming out. She did ask her friends if her life had been feral enough to warrant this title – they laughed and assured her it still is.
Leicester Mercury Comedian of the Year 3rd 2020, As heard On BBC Radio 4 Fred at the Stand, Leicester Comedy Festival – Best Festival Appearance nominated 2021, BBC Radio Gilliard Award Best Newcomer nominated 2020.
6.30pm – Matt Bragg: Matt Bragg Has Nothing Wrong With Him 
The debut show from Matt Bragg, tour support for the likes of Ricky Gervais, John Bishop, Jason Manford, Lloyd Griffith, Scott Bennett, Suzi Ruffell and more. Leicester Mercury Comedian of The Year Runner Up 2019.

"Classic observation comedy delivered with effortless style."…Ricky Gervais
"Brilliant. Beyond highly recommended"…Johnny Vegas.
"Exemplary Stand Up, I feel for whoever follows him"…Tom Rosenthal

8.00pm Dan Tiernan – Work In Progress 
A work-in-progress show from the winner of both the 'BBC New Comedian of the Year' & 'British Comedian of the Year' 2022.  Dan Tiernan is 26-year-old, gay, Mancunian with dyspraxia. He's a high energy act with a gag-heavy set all about his weird and chaotic life.
As seen on Rosie Jones's Disability Comedy Extravaganza (Dave). Chortle Awards, Best Newcomer Nominee (2022).
"Raucously entertaining"…The Guardian
"He's a real force-of-nature comic who sweeps the room up in his exhilarating performance into a frenzy of laughter."…Chortle
"Witness a future stand-up star"…British Comedy Guide
9.30pm Anth Young – Family Man 
Anth Young presents his first feature length show as he prepares to take it on a tour of the UK.  Join Anth as he regales us with tales of his life turning upside down. From a single man living with his parents to becoming a parent himself, Young is sure have the audience laughing their heads off from start to finish. Anth Young is certain to leave any audience in stitches.  Tour support for Carl Hutchinson.
"Delightfully blunt and immensely endearing"…BBC 
"His material is from a long tradition of northern gag merchants and on this evidence, he has long career ahead of him."…Broadway Baby 
"A bullet proof act who has exciting potential"…Carl Hutchinson 

You may also like