Funny Way To Be Comedy – Edinburgh Preview Day 1 (16+)
Ticket price
£20 all 4 shows
When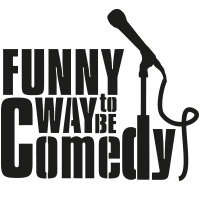 Four individual Edinburgh Preview shows, with top TV and radio award-winning comedians. Brand new shows from Mark Nelson, Kai Humphries, Craig Hill and Alasdair Beckett-King.
5.00pm – MARK NELSON Host of BBC's hit show "The Good, the Bad & the Unexpected", dark brilliant material and regularly voted UKs best headlining comedian. Killer punchlines – sensational comedian.  "Wonderfully crafted gags"…LIST
6.30pm – KAI HUMPHRIES You've seen him on tour with Daniel Sloss, co-host of hit podcast "Sloss and Humphries on the Road" and funny as hell.  "Absolutely brilliant… Pure stand-up… Fabulous"…VOICE MAG
8.00pm – CRAIG HILL Infectious and wicked – Scotland's favourite kilted comedian is a household name north of the border and his live shows are uproarious. Don't miss his first time with us – we hope he'll become a regular. "Absolutely hilarious"…LIST
9.30pm – ALASTAIR BECKETT-KING Out of the swirling maelstrom he steps, his sword of jokes, his shield of whimsy and his armour made of a third amusing thing. Cursed to return to the Fringe, multi-award winning stand-up Alasdair Beckett-King unravels life's shallowest mysteries and, "creates his own multi-faceted world" (Scotsman).
You may also like